defgllc.com
Jan 08 2013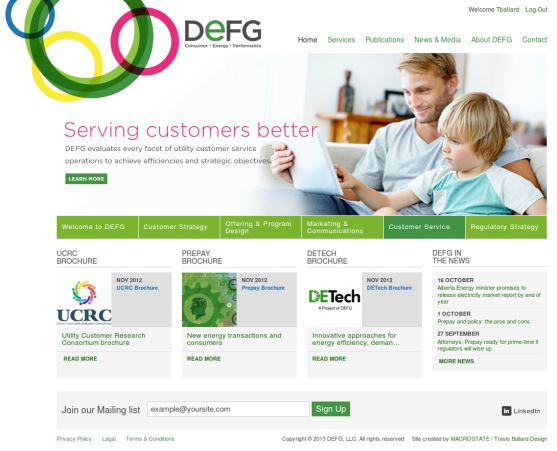 Key Features
Download / File Manager

Infinite Scroll

Integrated MailChimp Subscriptions

User Accounts
Had the pleasure of working with talented folks over at MACROSTATE for my first website launch of 2013 and you better believe that it's powered by WordPress. This one is for DEFG LLC, a management consulting firm that specializes in energy.
They wanted a way for users to register for an account and be able to download publications, press releases, and newsletters so we did just that. We built a way for them to easily upload and manage files as well as attach them to publications and news articles. Not only that but download statistics are gathered and displayed to administrators. Aside from the file manager, we also added in a custom integration with MailChimp to power their newsletter subscriptions and then to top it off with a little eyecandy there's  some infinite scrolling to the publications and news areas so that there's no clicking anything to move to the next page you simply scroll to the bottom and voila, more publications are loaded automagically for you to browse through.
It's been a while in the making, but it was definitely worth the wait. Couldn't be happier with this one!